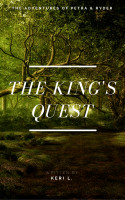 When Petra's parents deliver an ultimatum to her, giving her one last year to continue her ways of sword fighting and horse riding before abandoning them for marriage, she decides to make the most of it by joining a competition designed by the King himself. The contest, or the 'King's Quest,' as it comes to be called, invites all mankind between the ages of 15 and 30 to travel into the Magical Realm and battle renowned shape-shifter Bjorn. Whoever defeats the magical will be crowned champion and be rewarded their heart's desire. As Petra embarks on the journey, she joins forces with a lonely knight, Ryder, butts heads with a griffin who is determined to aggravate her, and discovers she's more than just a mortal girl. But when she becomes hunted by the dreaded spektors, Petra begins to realize there is something far more valuable at stake than just winning the King's Quest – her life.
Reviews For 'The King's Quest'
(Smashwords)
Review by: Leroy62 on Aug. 30, 2017 :  5 Stars
Great book. Will there be a second one, because I would love to read it.
(review of free book)
Review by: Ruth Torty on Aug. 13, 2017 : (no rating)
Nice story. I just felt there should have been an in depth description of the magical creatures and how the magic was been used or rather 'channelled' through Thane and Petra. I love the story, Petra's father is like an onion, a box of secrets. Looking forward to the next story
(review of free book)
Review by: ken northington on July 28, 2017 :  5 Stars
Very well written, good character development and most of all it was fun to read.
(review of free book)
Review by: Jessica Wilcox on July 24, 2017 :  5 Stars
I absolutely LOVED this book! It captured and held my attention the whole way through- I couldn't put it down. The characters are very well developed, as is the story line, and the whole thing took a different spin on fantasy. Ryder is my favorite character, somebody I identify with, and I really liked how the scenes between Petra and Thane played out. The ending leaves me wanting more, and I can't wait for the author to publish the second book (hopefully soon!) I will definitely buy it, as this is shaping up to be a new favorite series.
Also, I found the book to be very well written and edited, with very few mistakes (kudos to the writer, I know it's not easy) 5 stars all the way!!!!!!!
(review of free book)
(Barnes & Noble)
Some minor spelling errors. Nothing serious. I loved the story and was disappointed there was not a sequal. I really hope there is one coming
Wow! I was hard pressed to put book down and do other stuff. I loved thane. The fairies were so cool. In a few years i look forward to reading this book out loud to my grandkids. Seeing them caught up in the magic. Hope there is a second book!
Anonymous : 3 Stars
300 views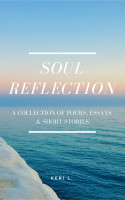 A collection filled with poems, short stories, and essays covering a variety of topics, but all guaranteed to make you think. From the thought provoking story 'The Pool of Reflection' to 'When I Look At You,' Soul Reflection has something for every reader. If you're looking for something to inspire you 'Shine' and 'Goodbye' are great poems to start with, and 'A Stranger's Love' will leave you in tears. Spanning over three years of the author's life, you will find yourself in the valleys Ireland, your breath catching as you read 'Moment' and 'Where the Heart is' will have you reaching for a tissue. Easy to pick up, hard to put down, this book will inspire, encourage, and move you to think thoughts you've never had before.
Anonymous: 5 Stars
349 Views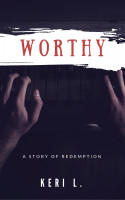 Sarai – 25 and the owner of 'Sarai's Bakery and Sweet Shoppe,' is harboring a secret. She's in love with Aaden, the music pastor of her church, but she's afraid her past is too stained for him to ever be able to love her back, and resigns herself to a life of loneliness and regret.
Struggling to hear God's voice in the midst of turmoil, Sarai is faced with the realization that until she forgives herself, she can never go forward in life. God has called her into the music ministry, but will she heed His command? Will she ever be able to let of the past and understand that God's love is stronger than any hurt, greater than any sin? Will she ever see that she is worthy?
Reviews For "Worthy"
(Smashwords)
Review by: Proverbial Faith on Dec. 19, 2017 :  5 Stars
Beautiful! I could really relate to this book and I must say it had a deep message for me that everyone needs, especially for those who feel unworthy in God's eyes or anyone else. I especially love the scriptures and songs at the end, that confirms the message. Oh, so short though!
Review by: Rebekah Huse on Jan. 13, 2018 : 5 Stars
Excellent book. I cried through the entire thing. The story of finding forgiveness is one that everyone needs. If you can't relate to the message in this book, than please re-examine yourself. Thank you for sharing your heart on paper.
Review by: MEB on March 29, 2018 :  5 Stars
Totally loved it!!!! A million stars…
It shows so much how indeed there isn't anything that can separate us from the love of God our father. Sometimes we hold ourselves out of His loving grace. Work of fiction like these makes me give thanks to God for the Holy Spirit's inspiration. Words fail me…. God richly bless you, Keri!!! Keep up the good work.
(Facebook:)
Nty Udofia on January 11, 2018: Five Stars.   Hi, Keri, I just finished reading WORTHY, and it's awesome. God bless you more. It's a five star from me. Looking forward to reading more of your novels.
(Google Play -no longer available in this format)
Anonymous: 5 Stars
Excellent read. Anyone who has ever struggled with feeling unworthy of God; will love this book. Book keeps you on edge the whole way through; what an ending.
(Kobo)
Anonymous: 5 Stars